---
Geekcode
for Landon Curt Noll
(home) (bio)

-----BEGIN GEEK CODE BLOCK-----
Version: 3.1
GCS/M/S/E/G/O
d-(--) s+: a+
C++++ U+++++$ UL++++ UB++++(+++) UI+++(++)
US++ UV+ P+++@ L++++ E-@ W+++ N-(+++++) !o !K w---(----) O- M++ V--
PS++ PE-() Y++
!t !5 !X R !tv b++ DI++++ D+
G++
e++ h+ r z?
-----END GEEK CODE BLOCK-----

Cheat-sheet
Types of Geeks

GCS/M/S/E/G/O

GCS

Geek of Computer Science

GM

Geek of Math

GS

Geek of Science (Physics, Astronomy, ...)

GE

Geek of Engineering

GG

Geek of Government

GO

Geek of Other Some types of geeks deviate from the normal geek activities.
Appearance

d-(--) s+: a+

d-(--)

I'm usually in jeans and a t-shirt to My t-shirts go a step further and have a trendy political message on them

s+:

I'm a little taller than most / I'm an average geek size

a+

age 40-49
Computers

C++++ U+++++$ UL+++(++++) UB++++(+++) UI+++(++) US++ UV+ P+++@ L+++(++++) E-@ W+++ N-(+++++) !o !K w---(----) O- M++ V--

C++++

I'll be first in line to get the new cybernetic interface installed into my skull.

U+++++$

I truly grok Unix in a major way and I wrote parts of it. I get paid for it.

UL++++

I truly grok Linux.

UB++++(+++)

I truly grok BSD to but less so since the days of 4.4BSD.

UI+++(++)

I know IRIX to but less so since I stopped working for SGI a few years ago.

US++

I do Sun OS/Solaris too

P+++@

Perl is a very powerful programming tool however because of U+++++, I also write shell scripts where reasonable.

L++++

I am a Linux wizard.

E-@

I know what Emacs is however Emacs sometimes is too big and bloated for my tastes.

W+++

I am a Webmaster.

N-(+++++)

News is a waste of my time and I avoid it completely to I wrote parts of INN, helped rename newsgroups from net.* into todays system, was a member of the Usenet Backbone, helped in its creation way back in the early 80's.

!o

I refuse to participate as a Usenet Oracle (due to the N-).

!K

I refuse to participate in Kibo.

w---(----)

Windows has set back the computing industry by at least 10 years to I own the microsoftsucks.info domain (but I have not populated it yet).

O-

OS/2: Tried it, didn't like it.

M++

A Mac has it's uses and I use it quite often. My desktop of choice is an OS X box.

V--

I would rather smash my head repeatedly into a brick wall than suffer the agony of working with VMS. It's reminiscent of a dead and decaying pile of moose droppings. Unix rules the universe.
Political

PS++ PE-() Y++

PS++

I give to liberal causes. I'm a card carrying member of the ACLU.

PE-()

It's OK to increase government spending for a good reason, in moderation.

Y++

I am very concerned about privacy issues.
Entertainment

!t !5 !X R !tv b++ DI++++ D+

!t

I refuse to participate in Star Trek.

!5

I refuse to participate in Babylon 5.

!X

I refuse to participate in X-Files.

R

I've Role-Played before.

!tv

I do not own a television.

b++

I find the time to get through at least one new book a month.

DI++++

I've received mail from Scott Adams. I am in the DNRC (Dogbert's New Ruling Class).

D+

It's a fun, action game that is a nice diversion on a lazy afternoon.
The Geek Code

G++

G++

I know what each letter means, but sometimes have to look up the specifics.
Lifestyle

e++ h+ r z?

e++

I have a Bachelors degree

h+

I am living in a home with an Internet feed.

r

I date periodically.

z?

It's none of your business what my seⅹ life is like.
For more information see The Code of Geeks.
---
And now for something completly different...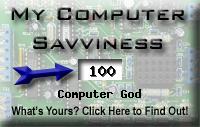 ---
Landon Curt Noll
chongo <was here> /\oo/\